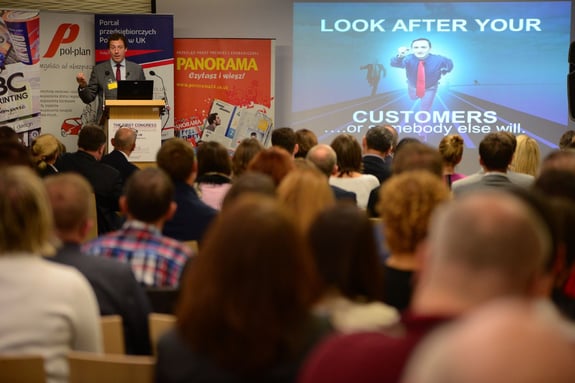 Supporting Diverse Entrepreneurs in the UK
Polish Business Link is a membership organisation and B2B portal. Our patron is the British Polish Chamber of Commerce (BPCC). Our aim is to facilitate business-to-business connections, helping your company raise its profile, develop its valuable contact network and gain new contracts.

We host tailored networking events & business mixers, across the UK and further afield, to help Polish & other diverse business communities to grow in domestic and global markets. Our business-focused network and our events attract business owners, directors and SMEs from a rich mix of business sectors.
Our Business Partners
Supporting PBLINK since 2012
TOUCH
Trusted Referrals
Trusted Referrals
120+ Members & Partners are growing their business in the UK with PBLINK
TOUCH
Business Networking Groups
Business Networking Groups
PBLINK works with a diverse range of entrepreneurs operating in various sectors, but mostly in the construction, trade and IT.
TOUCH
Business Events in London
Business Events in London
Network your business across London & the UK. Join our online and in-person events
Grow through business networking
We understand Business Networking as a strategy for growing your business.
It's based on building meaningful, lasting relationships with and empowering people you meet to reach their goals.

Because when your network succeeds, you succeed
Our History
Growing Community since 2012
Polish entrepreneurs have rapidly established themselves across the UK in the ten years since Poland joined the EU. Today, more than 21,000 Poles have set up nearly 22,000 companies in the UK, while another 65,000 Poles are self-employed. According to research by the Centre for Entrepreneurs think tank and financial technology company, DueDil, Poles are the sixth largest nationality to set up businesses in the UK, behind Ireland, India or USA, but ahead of France, Italy, Australia or Holland.

As the Polish community in the UK showed an enormous interest in issues connected with running a business in the UK, so there appeared the idea of creating a place where their needs could be met: a place where entrepreneurs seeking new business partners, franchisees, distributors, investors or people willing to set up a business in the UK could meet, talk and exchange views.
2012 - FIRST EVENT

The idea was developed in late 2012 in Edinburgh. The first event took place in the Royal Society of Edinburgh attracting over 100 entrepreneurs.

2013 - LAUNCH OF PBLINK.CO.UK

Portal dedicated to entrepreneurial Poles operating in the British market was starting to take shape.

2013 - EXPANDING IN ENGLAND

First events took place in Central England: Manchester & Leeds

2014 - CONGRESS OF POLISH ENTREPRENEURS

In 2014, Polish Business Link became the facilitator of the annual Congress of Polish entrepreneurs in London, attracting in excess of 200 business people. The all-day Congress focuses on such issues as:



Funding for business start-ups and growth
Legal, tax and financial issues facing entrepreneurs in the UK
Marketing
HR issues

2015 - NETWORKING EVENTS IN LONDON

Since 2015 PBLINK grew in London by engaging its members in various locations in Central and West London

2016 - NEW LOGO

In 2016, we launched a new layout and refreshed logo for the PBLink portal.

2017 - POLISH CONSTRUCTION NETWORK

The PBLINK Construction Network was launched to help Polish construction firms to cooperate with UK businesses and to build effective networks.

2018 - THAMES NETWORKING

First Thames summer business networking was launched

2020 - ONLINE EVENTS

During pandemic, PBLINK moved all events online to keep supporting the Community
HOW YOU CAN GROW YOUR BUSINESS WITH PBLINK?
LET'S HAVE A CHAT